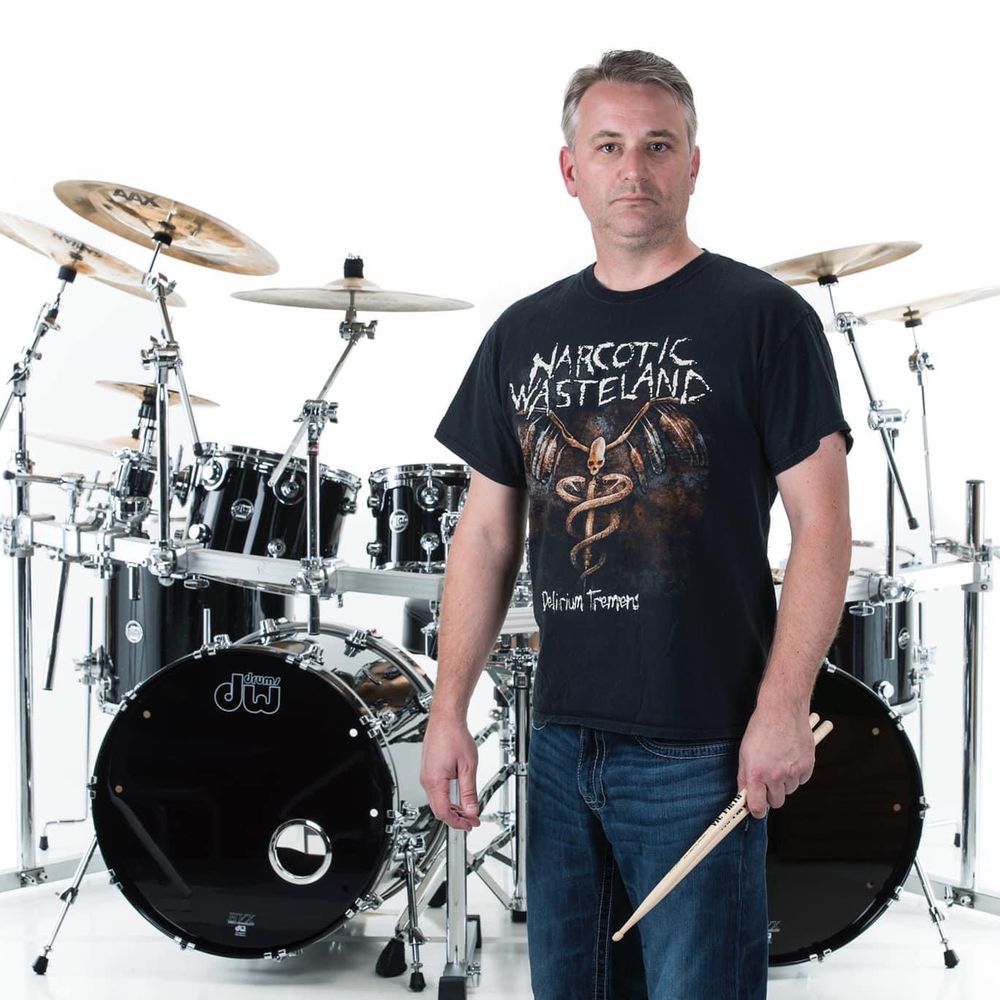 Erik Schultek
Drums, Studio Engineering
Born in 1978, Erik's musical journey began early at age 12. Enthralled by the early thrash and metal bands that helped forge today's modern sound, he dove headfirst into all things drum related. A passion that has never waned for over 30 years.
An accomplished and versatile drummer now over the last three decades, Erik has established himself as a well rounded and knowledgeable drummer of many influences with a strong work ethic and has been recognized in publications such as Drum Magazine and SickDrummer Magazine.
Playing and recording in numerous bands throughout his career his love for music expanded into music production and audio engineering in the late 2000's.
He opened up his own recording studio "Level3Studios" in Madison, Wisconsin and became fully immersed into producing high-quality professional audio for clients all over the globe.
He has collaborated professionally with well-established and noteworthy musicians across the musical spectrum as well as studied under some of the industry's top drummers and audio engineers.
His passion for helping mold a professional product has earned him the reputation of a reliable and in-demand drummer and audio producer/engineer.
In 2013 Erik joined the ranks of Narcotic Wasteland for the self-titled debut album. Not only as the drummer but also handled production and mixing of the record which would eventually get the band signed to "Megaforce Records."
Along with Dallas Toler-Wade, Edwin Rhône, and Chris Dupree the crushing sound and textures of the band were formed releasing a collection of songs which helped propel the band up to the next level. Truly an album that still stands up today.
Erik went on to produce more projects and bands including In-Defilade's crushing "Elude" album featuring former NILE bassist Jon Vesano, an instrumental record with band-mate Edwin Rhône ("Panoramic Views"), even an esoteric Pink Floyd inspired project called "Inevitabilities" featuring Jim Ross of Nader Sadek/Bandwhore.
Currently, Erik is back with Narcotic Wasteland for their upcoming 3rd release and is more determined than ever to push his abilities behind the kit as well as behind the audio desk. The future is promising and his energy to be back with the NW crew is at its highest peak. No doubt some amazing things on the horizon.
Erik proudly endorses Vic Firth drum sticks and Soundhoops drum microphones.
For more on Erik please visit:
http://www.level3studios.com/home.html
https://youtube.com/user/pottersfield13
https://soundhoops.com
https://www.facebook.com/erik.schultek
   "For the past 30 years, I've trained tirelessly to advance and refine my techniques and musicianship.
This journey of continued learning has been amazing on so many levels and has introduced me to a vast world of amazing people and musicians all over the globe - which in turn, inspires me.
   In any creative field you need two things: PASSION and DETERMINATION…..
Both are a necessity to realize your true potential. The result of which, lives forever."
                                                                                                                             - Erik Schultek